No Input Device Detected or No Microphone detected
Because Talkatoo is voice dictation software, you do need to have a microphone attached to, or built in to computer, to use it. While you will get much better results with one of the high quality dictation microphones that we supply, you can use any type of microphone to get started.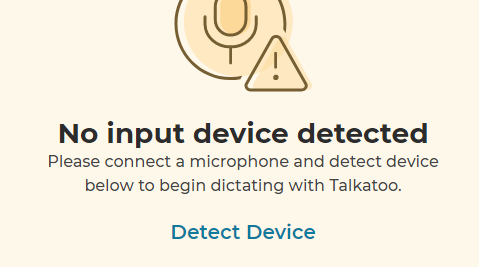 If you start Talkatoo for the first time and you see this message, you will have to determine if you do have a microphone on your computer.

Mac
If you are on a Mac, nearly all Macs, with the exception of the Mac Mini, have a built in microphone, so the issue is likely permissions related. See this article but look at the Microphone tab. To be sure, you can check that you have a working microphone by clicking the Apple icon on the top left and then System Preferences > Sound. On the Input tab, you can see any available microphones, and with one selected, verify that it is detecting sound.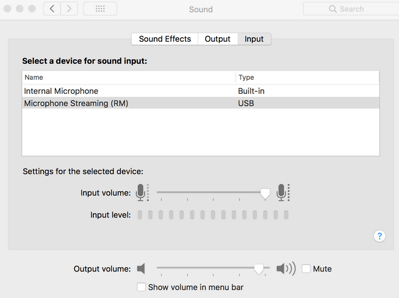 Windows
If you are on a Windows PC, all laptops will have a microphone built in, but most desktops do not, so it's possible you do not have one. If that's the case, you will need to plug one in before continuing. See here for more information. To check whether you have a microphone, already, you can
Right Click on the speaker icon just to the left of your clock, and click Open Sound Settings.
Scroll to the Input section. If there is at least one microphone listed, you do have one, and it's likely that your security settings are preventing it from being used. See this article for troubleshooting steps.
If it says No Input Devices found, that means you either don't have a microphone, or it is damaged or disabled, and you should ask your IT provider for assistance.
Remote Desktop
If you are using Talkatoo over a remote connection, such as Remote Desktop, or third party tools like TeamViewer etc, this message is likely occurring because you are trying to use the Talkatoo installed on the remote computer, but your microphone audio is not being passed through.
If you are using Remote Desktop from a Windows computer, and you know that your server (or remote computer) has already been configured to accept the remote audio, see here for steps.

If you're using a Third Party Tool the fix is to install Talkatoo locally on your computer. See the link above for special configuration for some tools.