Manage your subscription, payment details, users and get your invoices in the Talkatoo Admin Dashboard
Our self-serve Talkatoo Administration Dashboard is now available at
This article will outline what you can do including adding and managing users, upgrading your plan, and adding or updating the credit card on file.
Account Overview
The account overview page gives you a top level view of your plan, next payment date and the amount you will be charged, as well as the number of active, invited and available users.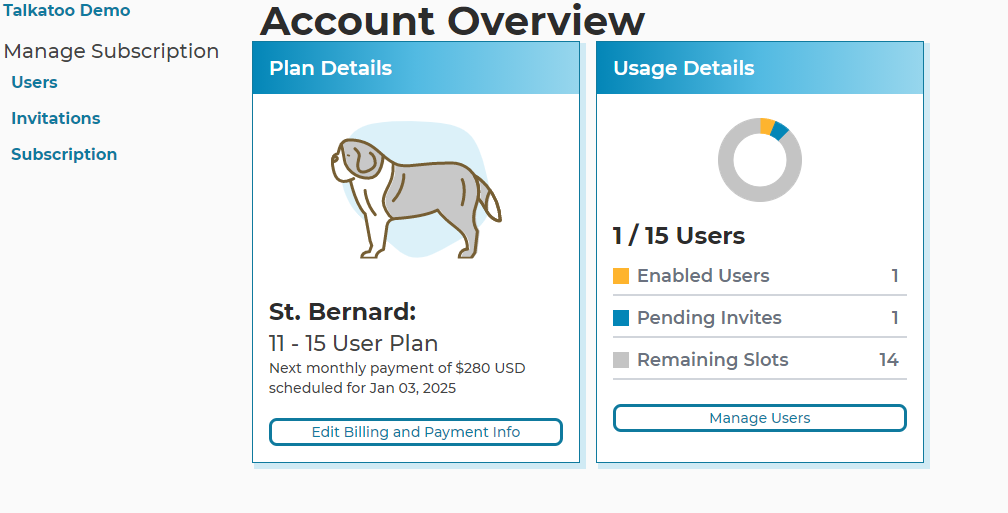 Managing Users
The Users page allows you to see all of your existing users, and whether they are active or have only been invited. You can invite users, uninvite users, and promote another user to be an administrator. All of these options can be accessed by clicking the 3 vertical dots beside each user

. Note that most options are only available once the user has accepted the invitation.
Adding new users
To add a new user at your clinic:

Click Invitations on the left.
Click Invite User (upper right)
Enter their email address
Click Invite

The user will receive an email invitation to create their account, and download Talkatoo.
If the user you have invited has ever used Talkatoo before with this address, they will see a message that the account exists. If they were only on a trial, they can simply choose Accept Invitation. If they were the main account holder of an active, paid subscription, they will need to contact our team to end that subscription first.
If they do not remember their password, they can reset it from the login page, or you can send them a password reset email from the Users page, after they have accepted the invitation.
Editing a user
If a user needs to change their name, they can do so by logging into the portal themselves. Email addresses are not editable at this time. You can either remove and re-invite the user, or you can contact us to edit the email address.
Removing a user
If a user has left the clinic, you can delete their account from within the User page by clicking the options button. This will free up a slot to be able to add a new user now, or in the future.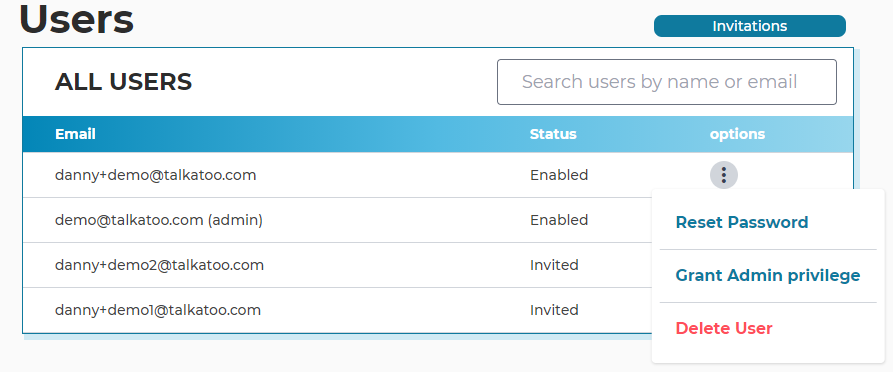 Promoting a user
If you would like additional users at your clinic to be able to manage Talkatoo, with all of the abilities listed here, you can choose Grant Admin Privilege beside their name. Note that this will give them full control over all aspects, including billing and credit card information. We will be introducing a manager role in the near future to allow managing users.
Managing your subscription
Whether you are on a free trial and want to sign up, or if you are already a customer and need more users than your current plan allows, you can upgrade your plan from within the portal. If you do not yet have a credit card on file, you will be asked to add one, and then select the plan you want. At this time, you can only upgrade your plan on the portal. If you need to downgrade or end your subscription, please contact us directly at 1-855-886-2156 or reach out on the chat.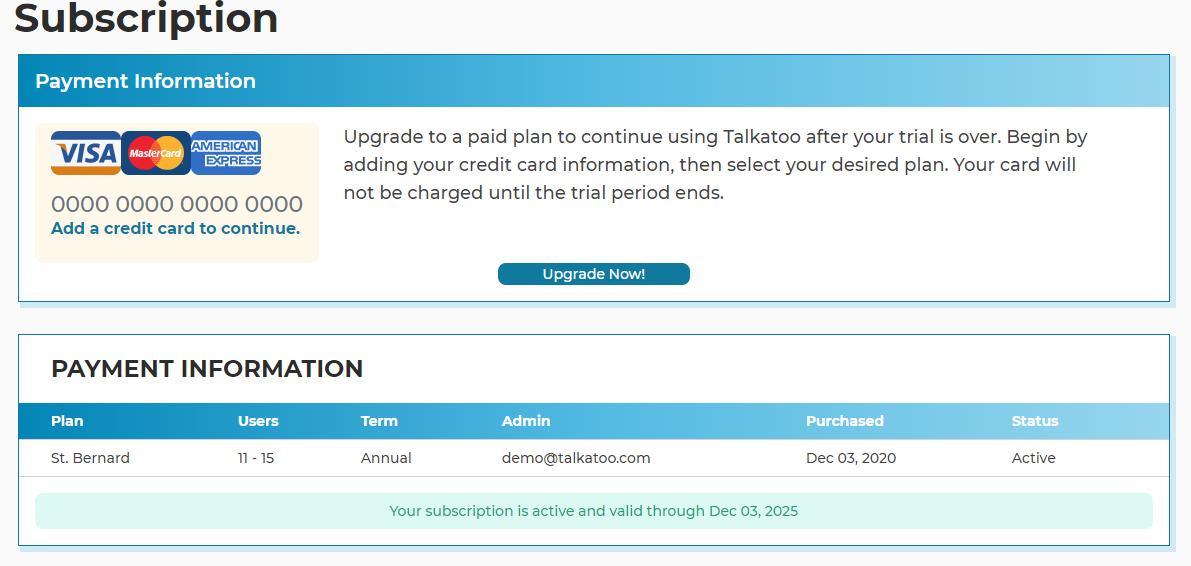 Invoices
You are able to view and download PDF versions of your previous invoices by going to the Billing HIstory link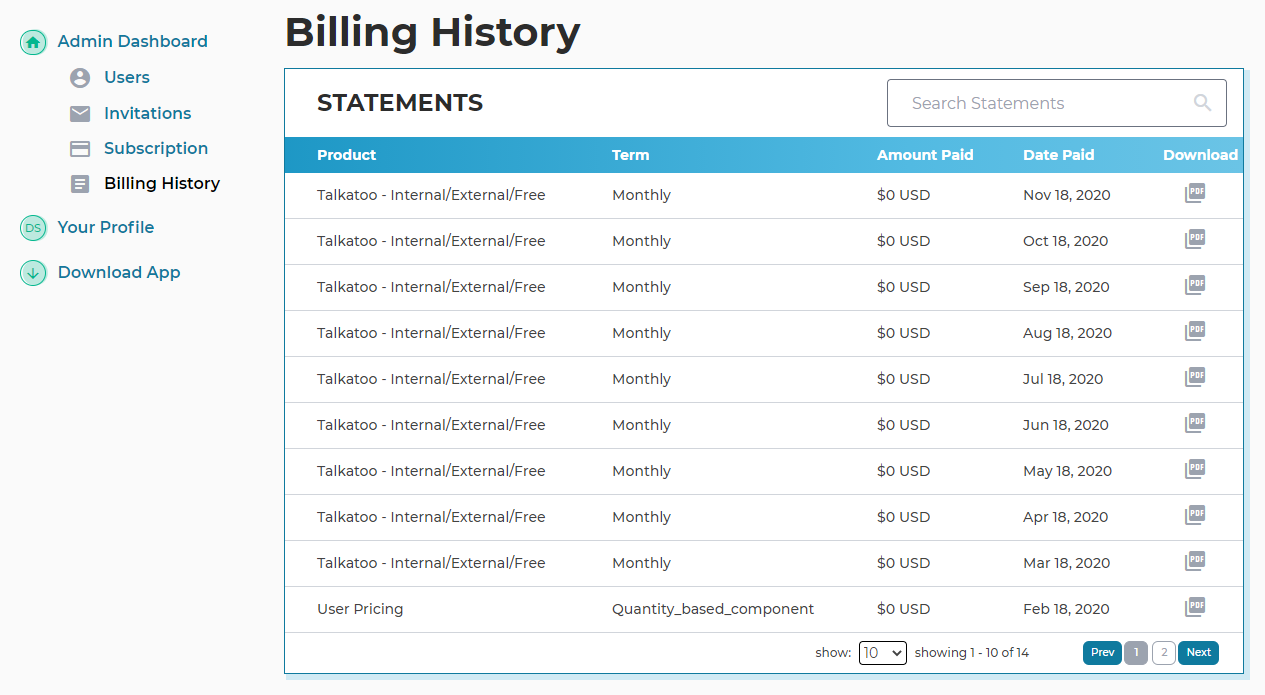 If you discover any issues or errors in the administration portal, we would be grateful if you let us know by sending an email to support@talkatoo.com