Talkatoo is working in all but one program, for example AviMark.
If when using Talkatoo in AviMark, the microphone button puts in a plus sign (+) or appears to hear you but is not typing, but works in other programs on that computer, this is likely the issue.

The reason this is happening is because your software is being run as an administrator, or elevated user, and so for security reasons, other programs such as Talkatoo are not able to interact with that software unless it is running at the same or higher security level.
Don't worry if you don't know what that means, it's an easy fix:
If Talkatoo is open, click the App menu (the 3 dots) and Click Quit.
Find the desktop icon and right click on it.
Click 'Run as administrator'.

If after doing this, it is still not working as expected, please get in touch with us for further troubleshooting.
Making It Permanent
Assuming that did fix the problem, you won't want to have to do that each time, so there is an easy way to make it permanent.
Find the Talkatoo desktop icon and right click on it,
Click Open file location. This will open a folder, and you will see Talkatoo.exe is highlighted (it's ok if you don't see the .exe after Talkatoo, this is just a Windows setting).

Right click on the highlighted Talkatoo.exe


Click Properties,

Click Compatibility at the top.



Check the box that says Run this program as an administrator.
Click OK and close any remaining windows open.

From now on Talkatoo will automatically launch as an administrator on this computer, and will work in your practice management software.
Troubleshooting: If you have done this, but find it does not seem to be keeping the setting, ensure that the Open File Location step opens up to a location that looks like this: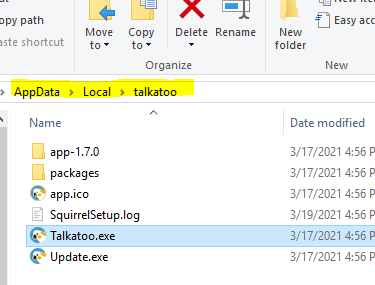 If it does not, try copying the following text, clicking Start (on Windows, not Talkatoo) and pasting it in, then hit enter:
%localappdata%\talkatoo
If you're still having trouble, just give us a call.
Note: This will not have to be redone after a normal software update, however if the software is uninstalled, or reinstalled, it would have to be redone.
It's possible that if you also use the Philips SpeechMike and Philips SpeechControl software, you would need to perform this step with that software as well. The steps are exactly the same.