You need to sign out of Talkatoo and then back in.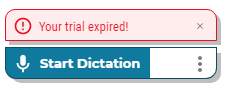 You may see this message if you were on a 7 day free trial, and after it expired you either purchased Talkatoo, or were invited to a multi user account with this same email address. That means that you have to sign out of Talkatoo and then sign back in. This allows Talkatoo to use the most recent subscription information.
This won't prevent you from signing into any other computer, only one where you were already signed in before the purchase or invite was accepted.