Talkatoo offers automatic punctuation (default) or the choice for manual punctuation
Automatic Punctuation
One of the features that make Talkatoo so easy is automatic punctuation. This feature is on by default, but it can take some getting used to at first. Here are 4 tips to make sure you get the best result.
Tip #1.
Look at something on the wall while you dictate. Avoid watching the transcript as it's being written. Talkatoo will make corrections as you speak, this means if you see it backspacing don't be alarmed and don't move your cursor. while you continue to speak. Looking away will help you speak naturally and that's how you get the best results.
Tip #2.
Speak in complete sentences. You can even try dictating one sentence at a time. Talkatoo listens for the natural pauses in your speech and that's where it adds punctuation.
Tip #3.
Talkatoo is a contextual speech-to-text solution. The more context you provide with each sentence, the more accurate it will be.
Tip #4.
Be patient. Dictating is like forming a new habit: practice makes perfect.
Manual Punctuation
Talkatoo has a new feature that allows you to dictate punctuation. The feature had been requested many times by users who're familiar with other dictation apps. We're happy to say it's finally here in early-stage. At this point, you can say the following:
'.' Period
',' Comma
'!' Exclamation Mark
'?' Question Mark
':' Colon
';' Semicolon
Because this feature is not complete, we have not turned it on by default, but you can easily turn it on.
Click the 3 dots on the toolbar and then click Settings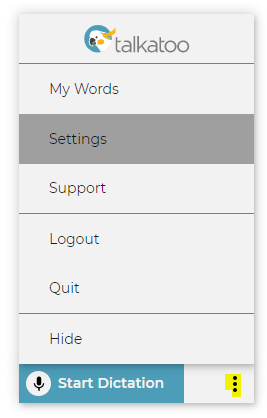 2. Toggle the switch next to Manual punctuation and click Update to save.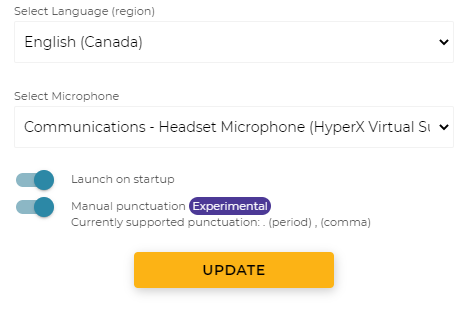 Note the
Experimental
flag. Since we are still actively working on this feature, it may not be perfect, so if you find something wrong, we'd be grateful to hear about it. You can chat, call 1-855-886-2156 or email
support@talkatoo.com
with any issues or questions regarding manual punctuation, or anything else to do with Talkatoo.
Thanks,
-Danny