Whether using thin clients or workstations (thick clients) it is possible to use Talkatoo.
One common office configuration is to have the practice management software (PMS) installed on the server, and all of the office computers remotely access that server. This can be done with either regular workstations running Windows, or thin clients - computers with a minimal operating system only running Remote Desktop. These two scenarios have different requirements and challenges, but it is possible to use Talkatoo in either case.

If you are looking for information about using Talkatoo when accessing your work computer/server from home, click here.
General
Generally, the process to use Talkatoo on the server is to install it on the particular user account that you log in to the server using, configure the audio to be sent from the local computer to the server, and configure the server to receive the audio. Because Talkatoo installs directly into a user's %appdata% directory, administrator access is not usually required to install, but IT assistance will likely be required to configure the audio settings. See below for configuration details.
Thin Clients
Because you are not usually able to install software on the thin clients, the only option is to run Talkatoo from the server, where your practice management software is running.
Until recently this meant that you could not use a SpeechMike, but as of Talkatoo 2.1.0, this should now work. You will still have to pass audio through to the server, but once you do, it should just work. See this article for more information.
Outside Access
Sometimes your IT dept will have configured remote access through Microsoft's Remote Desktop Protocol (RDP). Aside from the public IP address, firewall and port forwarding settings, which are not covered in this guide, this will be the same process as using Talkatoo locally in the office over RDP.
Setup
There are 2 parts to this process. Setting up the local computer (desktop) to pass the audio, and the server to accept the audio being sent.
Sending Audio
If you are currently connected to the remote session, you will have to close it and reconnect before this will take effect (it's not necessary to log out, just close the session).
1. Right click on the RDP icon you use to access the server, and click Edit.

2. Click Local Resources Tab, then Settings.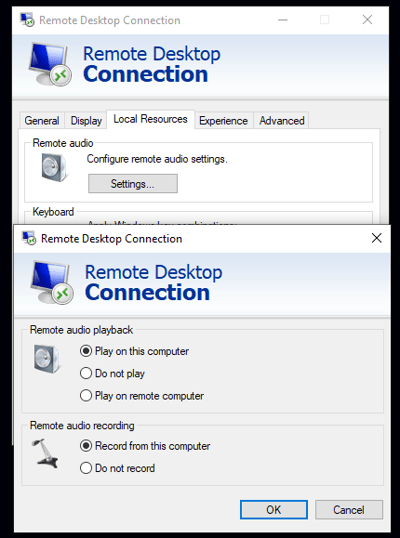 3. Set Record from the computer, then click OK
4. Click the General tab and click Save so that you don't have to do this every time.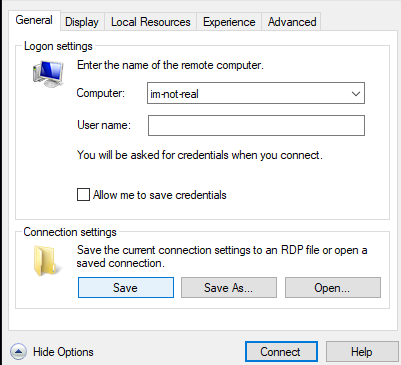 For thin clients, the process will differ based on the type of thin client and it's operating system. You should check your documentation for your model of thin client. This is likely something your IT department will have to do.
Receiving audio on server
This is also likely something your IT department will have to handle.
There are 2 places on Windows Server where the audio redirection may need to be allowed; the registry, and Group Policy Editor. It is generally required to restart the server before the GPO change will take effect.

Registry
The following registry subkey should be set to 0 to enable the Audio Recording Redirection feature, or 1 to disable it:
HKLM\SYSTEM\CurrentControlSet\Control\Terminal Server\WinStations\RDP-Tcp
fDisableAudioCapture REG_DWORD
GPO
The following Group Policy setting should be enabled to allow Audio redirection:
Configuration >> Administrative Templates >> Windows Components >> Remote Desktop Services >> Remote Desktop Session Host >> Device and Resource Redirection >> Allow audio recording redirection.
Using Talkatoo
Once these steps above are configured properly, you will see Remote Audio as your microphone input on the remote computer/server. Have a look at this to finish setting up Talkatoo to use over a remote connection: